DI saw an article from
vietbeautymag.com
that listed the children of Vietnamese artists and their info. So I was inspired to create this post.
CLICK HERE TO SEE
PART 2!
First of the bunch. Lam Truong & Y An's baby Tieu Kien Van born August 28, 2006
Truong Vu's daughter Hoang Nhi born in 2006.
Next is singers Tam Doan and Tien Dung and the new addition to the family, Darlena Tiểu Đoan Trần AKA Burrito. Burrito was born in 2006 to happy parents.

Thanh Truc and Vu Tuan Duc' s son D'Jay born in 2006.
Diana Phuong Phuong Chu born last year in 2006 to singer Ha Phuong and husband Chinh Chu.

The adorable duo Beckam (2003) & Colin (2006) are sons of singers Bang Kieu and Trizzie Phuong Trinh.
Singer Truc Lam and Makati Khang Pham born in 2005.
Lynda Trang Dai, Tommy Ngo and Neo Bảo Ngô born in 2004. In this picture the happy LTD & TG are celebrating Neo's first birthday.
Famous singer Ngoc Huyen and singer Thanh Tuyen's son Don had their first child in 2003, Elizabeth Nguyen Vu Ha Tien.
Singer Ngoc Thuy and Huynh Nhat Tan's two children Tanya (1996) and Tristan Wong (2002)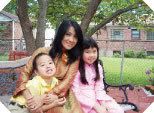 Comedians Quang Minh and Hong Dao with their two daughters Vicky (1996) and Sophia (2002).
Nickname the Queen of Shopping, singer Thanh Ha and her beautiful daugher Isabella born in 1999
MC Ky Duyen with her two daughters, Yen Ly and Mai Ly
Singer and actor Y Phung with her famous dad Minh Phung
Last but not least, Singer Thanh Tuyen and daughter Shayla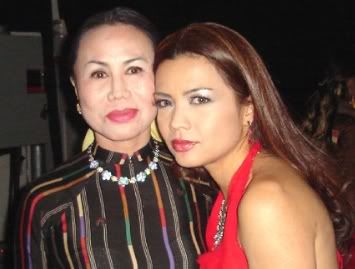 There are many others celebs' children I wanted to get such as Cam Ly's daughter Cam Uyen, Ngoc Anh's daughter currently living in VN with her grandmother, Nhu Quynh's daughter Melody, Phuong Dung's daughter Phuong Vy, and Phuong Thanh's daughter Nghi Phuong but I was not able to get picstures of them
My Thoughts:
Even though being the children of famous celebrities sound wonderful, but they also have a hard time too because they are in the spotlight and are being compared to their parents if they decide to also be in the showbiz. There is also the pressure that they get because people are doubtful of their success and or talent because people say it is their parents who got them that far or that they use their parents to paved them the way. So it is not always easier growing up with famous parents. There are pressures we do not know about because we are not in their shoes.
* Credit these photos to
vietbeautymag.com
,
mautam.org
,
vietshowbiz.com
,
BK's Myspace
,
LT.Info
,
TD.Net
, NK.info & Shaylaworld
CLICK HERE TO SEE
PART 2!